We all experience it at one point or another in our lives. Multiple times right? Anxiety can be caused by conscious or subconscious stress, chemical imbalances in the brain, physical illness, and a host of other things. The battle can sometimes feel like a no-win situation. Fortunately, there are tactics on how to combat anxiety.
#1 Take Action
Taking action can be broken down into 2 parts: Identify and Address
How to Combat Anxiety: Identify the Causes
Frequent causes of stress and anxiety include our ever-growing to-do list. A few from my own personal list…
Gotta pay the bills.
Gotta change the oil in the car (oh and the emissions test is due too).
The missing shingle on the roof needs replaced.
How to Combat Anxiety: Address the Causes
Get a plan together. Start attacking that list. Knock out the DIY projects or at least get them started. Even checking 1 single thing off it can help alleviate anxiety.
Sure, life will continue to add new things to the list. It's a continuous process. Keeping the list and tracking your progress will give you a sense of control.
Decompress
Life isn't always work, work, work. And this is one of my personal struggles. I find it very difficult sometimes, to step away from my list and take time to myself.
I accomplish this by playing music or going for a run. These things are my reward for taking action on the things that cause me stress.
For some people, it's reading a book, meditation, or yoga. Even gardening is an effective way to decompress against the effects of anxiety.
Talk to Someone
We all need to express our concerns at some point. Talking to someone, whether it be a family member or friend, has clear mental health benefits. Verbalizing (or texting/emailing) your problems can provide a sense of release to get things off your chest.
In the absence of a personal confidant, you can also turn to professionals for help. Everyone could benefit from professional therapy at some point in their lives. Today, it's easier than ever to find a therapist.
Talkspace, an online therapy provider, has become a viable way to connect with a professional therapist. Their mobile app is a great place to get reliable, accessible, online therapy.
Additional Tactics for Battling Anxiety
While anxiety is a part of life, it doesn't have to control it. By remaining in control, getting enough sleep, and staying focused on your goals, you can keep those helpless feelings at bay.
If you suffer from anxiety, share with us some of your remedies in the comments section. Our readers would love it!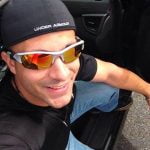 Sharif Jameel is a business owner, IT professional, runner, & musician. His professional certifications include CASP, Sec+, Net+, MCSA, & ITIL and others. He's also the guitar player for the Baltimore-based cover band, Liquifaction.