There is more to traveling than preparing an itinerary and packing for the season, events and activities you have planned. Namely, you need to think about your diet, getting enough sleep and keeping up with healthy habits. But when you travel to certain countries, not only will you eat healthy thanks to their natural diversity, but also discover new tastes.
That is the case with Australia which garners dietary practices from all over the world and combines them with its authentic flavors to create a fusion cuisine. So, once in Australia, this healthy food and drink travel guide will help you both stay on the right track and indulge your palate.
When travelling to Australia, if you don't want to be held to the limits of the local public transportation, you'll want to get your International Drivers License from the International Drivers Association. Renting a vehicle with the freedom to explore on your own schedule will help make the most of your visit.
1. Melbourne
Melbourne may not be the biggest and most famous city in Australia, but it is the prime location to taste excellent cuisine and have an active holiday. For those who enjoy a good cup of coffee will find excellent choices here like Serotonin or Industry Beans with their own roasting service. Peanut butter acai bowl will give you a perfect morning boost and raw salty caramel at Combi's will be an adventure for your taste buds.
You don't have to look hard to stay active since Melbourne is all about fitness and being active with numerous gyms and yoga studios. A chocolate lover simply shouldn't miss organic, raw and locally made sweets at Loving Earth, and those more inclined to fruits and veggies will be overwhelmed among isles of Terra Madre. Yarra Valley is perfect for a day trip to enjoy local wines, lush, green scenery and try some wonderful cheeses and locally grown products.
2. Canberra
Like any city, Canberra offers a variety of foods that will be agreeable with anyone's taste preferences. Green pea pancakes and cold-pressed juices are an ideal, healthy breakfast you will find in Local Press Café. National Arboretum offers not only an amazing view of the city but also is located on 250-hectares land and is home to 100 fledging forests from all over the world.
Lake Burley Griffin is perfect to walk, have a picnic and relax after lunch in Braddon at Lonsdale Street where you will find great coffee and perfect artichoke dishes. This little strip is all about eating delicious and healthy food like Acai bowls and salmon dishes, as well as drink matcha beverages and smoothies. After some vegan and organic desserts at Sweet Bones Café, take a walk in Tidbinbilla Nature Reserve and see Australia's diverse wildlife like koalas and wallabies.
3. Margaret River
If you are looking for surfing and dining experience, then Margaret River is the right destination for you. During the Margaret River Gourmet Escape, this wine region hosts the best international chefs who prepare healthy specialties from local and fresh produce. For those who want to try more locally grown food, the Margaret River Farmers' Market is perfect to visit during Saturday mornings.
During the sunny days, this is an ideal spot for sea kayaking and parachuting, but rainy days are also fun with cave exploration. If you want to try a homemade jam or sauces, then you shouldn't miss the Berry Farm which makes this tasty food from farm grown produce. Cape Lavender Tea House offers Devonshire teas and delicious lavender scones which will sit well in the afternoon after a brisk walk or surfing.
4. Hunter Valley
When in Sydney, consider driving two hours north and staying at the Hunter Valley accommodation. This is a famous wine region, but besides 150 cellar doors and exquisite Chardonnay, it offers much more. You will find a rich art community here especially in the town of Kurri Kurri which has over 50 murals dedicated to Aboriginal history.
The Lovedale Long Lunch happens in May and foodies will try dishes made from ingredients from local farms and prepared by top Australian chefs. Additionally, during the Hunter Valley's Premier Food and Wine Show, you can buy a locally produced cheese and nibble while flying in a hot balloon from the Cessnock Airport. Restaurants here pride themselves for using locally produced ingredients like Café Enzo which has an amazing lemon butter sauce, Tasmanian salmon and beetroot puree.
5. Tasmania
Tasmania is globally famous for having the freshest food. Besides the seafood, it also offers uniquely tasting cheeses like Bruny Island raw milk one. Fresh oysters, clams and sea urchins are something this region is very proud of and Franklin restaurant in Hobart offers among the best you will have an opportunity to try.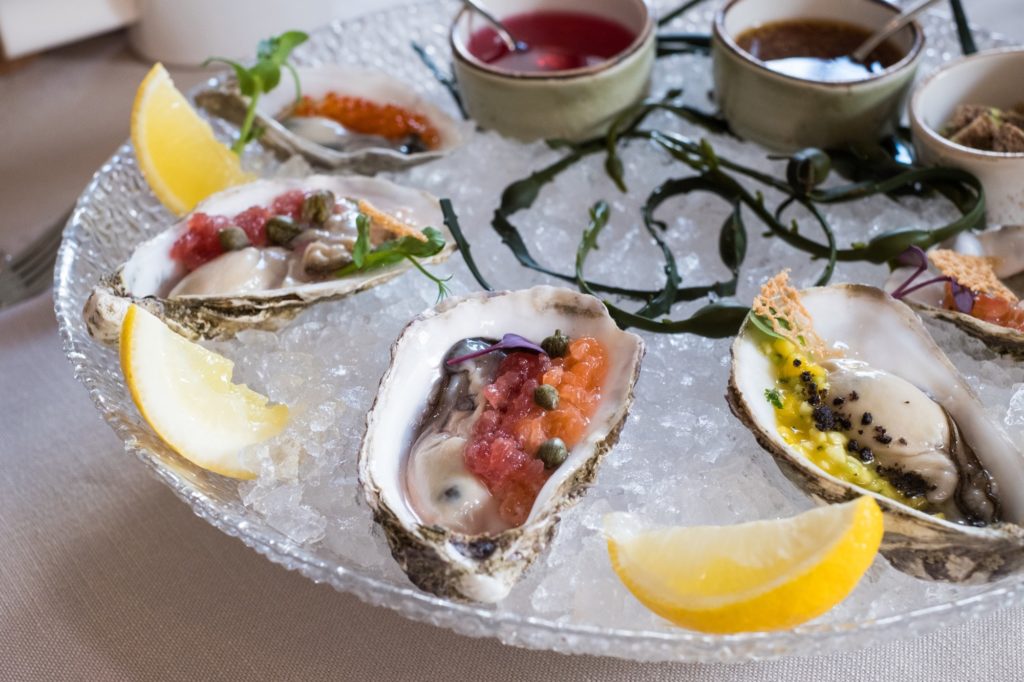 Freycinet National Park is one of many that will help you get acquainted with Tasmania's wildlife and astonishing ecosystem. Cradle Mountain Walk or hiking to some of the Tasman waterfalls like Russell Falls will not only keep you active but also enrich your soul. The Harvest Launceston Community Farmers' Market is full of fresh and healthy local produces every Saturday which respects high standards of quality.
Lastly
While Sydney may be the most famous place in Australia where you can find absolutely anything, other parts of this continent offer a unique experience as well. You won't have any trouble to find healthy food and drink offers in Australia since it takes good care about its natural resources and supports local produce. Just make sure to bring a good appetite and enough time to experience it all.
Nina is a lifestyle blogger, yoga aficionado and a travel enthusiast with a distinctive taste for home decor. She's passionate about learning new things and sharing meaningful ideas. In her free time, she loves to design clothes and furniture.