Disclaimer: Our article is simply providing information and should not be considered a recommendation for any kind of treatment. Everyone's situation is unique. Only you can decide if online therapy is a better option than traditional face to face sessions. Always talk to a professional healthcare provider before starting a new treatment regimen.
Whether it's stress, anxiety, or some other form of mental health issue, therapy options can come in many forms. The most traditional option involves face to face sessions with therapists, usually paid for on a per session basis. There is, however, an alternative to traditional face to face counseling called online therapy.
Online Therapy
While telepsychology (usually by phone) has been around for over 20 years, online or app-based therapy is still relatively new. For those of us who've ever confided in a long-distance internet friend, the idea is nothing new.
Online therapy providers match those seeking counseling with the right therapists, providing them with one or more channels for communication. Those channels can include texting, messaging, or even video chat.
It's Not For Everyone
Some people might find the idea of remaining semi-anonymous more appealing than having to sit down with a stranger, in a strange office. Other people, however, may feel differently.
Health insurance rarely reimburses for online therapy services. If you're relying on your health insurance to cover the bill, you may find it's not right for your situation.
The Misconceptions
Not surprisingly, with any relatively new twist on a time-tested service, there are a ton of misconceptions. People don't know how it works, or those unwilling to move into the future fight against change be assuming it's a bad move across the board.
Misconception #1 The Therapists Aren't Licensed
This is probably one of the bigger deals on the list. You can find online therapy providers that only match you with licensed professionals. One of the biggest and most reputable providers, BetterHelp, says right on their website:
Counselors on BetterHelp are licensed, trained, experienced, and accredited psychologists (PhD / PsyD), marriage and family therapists (LMFT), clinical social workers (LCSW / LMSW), or licensed professional counselors (LPC). All of them have a Masters Degree or a Doctorate Degree in their field. They have been qualified and certified by their state's professional board after successfully completing the necessary education, exams, training and practice. While their experience, expertise and background vary, they all possess at least 3 years and 2,000 hours of hands-on experience.
It's possible that not every provider is as good as BetterHelp when it comes to vetting their therapists, so make sure you do your homework when making your choice.
Misconception #2 Your Therapist Won't be There When You Need Them
As much of online therapy revolves around messaging, it follows that real-time access to your therapist may not always be instantly available. But being able to send a message or a text can be therapeutic in itself.
Many services allow you to schedule real-time sessions with your therapist over the phone, text, or on video chat. Obviously, a therapist cannot sit in front of a computer 24/7 waiting for someone, so this makes sense.
A traditional therapist might sometimes make you wait until the next scheduled appointment or not return your message until office hours. The nature of online therapy, however, means you can reach out to your therapist at any time.
Misconception #3 Online Therapy Doesn't Work
Again, as previously mentioned, it depends on your specific situation. But as a blanket statement, this is totally untrue. There's plenty of evidence suggesting that online therapy is a viable alternative to traditional office visits. (see sources & additional reading below)
Back in 2017, The Huffington Post tackled this very question quite thoroughly. It turns out that in some cases, therapy online or over the phone was as effective as it is face to face.
Final Thoughts
There are lots of options for getting therapy from a professional online. Today's busy adults don't have to worry about dropping their schedule to meet an office appointment or making a long drive to an out of the way location.
While everyone's situation is different, online therapy may just be a viable option for lots of adults who need a professional to talk to.
---
Sources & Additional Reading
Mayo Clinic: Cognitive behavioral therapy
ScienceDirect: The cost effectiveness of cognitive behavioral therapy for bulimia nervosa delivered via telemedicine versus face-to-face
Reuters Health via The Huffington Post: Telemedicine No Less Effective Than In-Person Therapy for Vets with PTSD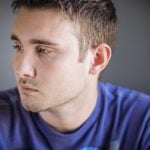 I'm a freelance writer from Israel. I like to write about just about anything. English is my 2nd language so please forgive me if my writing isn't perfect.