What if Darth Vader was your running coach? What tips would he have for you? How would Coach Vader motivate you?
Breathe
We all know Darth Vader needed a breathing apparatus to stay alive. His breathing is his signature sound. Similarly, for a runner, your breathing is extremely important.
Getting into a consistent breathing rhythm quickly will help you on those longer runs. Coach Vader would agree.
Use the Force
Of course, I had to go there. Outside the Star Wars universe, it's called digging deep. It might mean pushing out that last half mile or even those last 20 steps.
Anything that's even just a little bit more than what you thought you could do, is using The Force. Coach Vader would be proud.
Never Settle for Less than the Best
Lord Vader has a penchant for expecting nothing less than 100% from his people. But his leadership didn't stop there, he walked the walk.
He gave 100% himself and when things got rough for his team, he would go into the fray with them and do battle.
Coach Vader would push you to give 100% every time you hit the pavement, and if something happened out of your control that prevented it…
Learn From Failures
That's right. Darth Vader had a tremendous number of failures and he bounced back every time stronger than ever.
When you have a bad run or an injury Coach Vader would have you meditate on what went wrong and formulate a plan to succeed the next time.
It's Never Too Late
If there's one thing Darth Vader can teach us runners, it's that no matter how far you fall off the wagon, it's never too late to get back.
Vader spent much of his life off the wagon on the Dark Side. He only returned to the Light mere minutes before his demise.
While the story arc of Anakin Skywalker is modeled after some of the great Shakespearean tragedies, his story illustrates many lessons that apply to running (and life in general).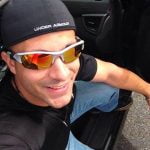 Sharif Jameel is a business owner, IT professional, runner, & musician. His professional certifications include CASP, Sec+, Net+, MCSA, & ITIL and others. He's also the guitar player for the Baltimore-based cover band, Liquifaction.