This is a note to describe something I saw earlier today. I was watching a video on YouTube of a guy playing 'A Lighter Shade of Plaid' by Blues Saraceno. I'd heard the song on Pandora; it has this really interesting fade-in tone and I couldn't figure out how he was doing it. I thought maybe volume swells but it's really REALLY fast and there's no way I could imagine someone doing volume swells that fast – I've worked on the volume swells that Steve Morse does and those are about as fast as it gets I think.
Anyway, what I saw on the video was that the guy uses a combination of left-handed tapping while doing the volume swells with the right hand and in the meantime, a delay effect makes it sound as if two guitars are doing the volume swells together.
The other interesting thing about this song is that although bluesy, it doesn't seem to spend a lot of time on the standard minor pentatonic/hexatonic scale. It sounds almost more major than minor, but still has a bluesy feel to it. I guess I still have a lot to learn about what constitutes that 'blues' feel or sound. I've spent the last 18 years stuck in the minor box of the I-IV-V progression of southern Mississippi blues. This song proves that there is way more to it than just those 6 notes and a few accidentals.
(Originally Written on November 20, 2012 in my iPhone Notes)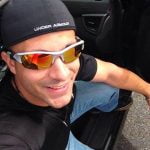 Sharif Jameel is a business owner, IT professional, runner, & musician. His professional certifications include CASP, Sec+, Net+, MCSA, & ITIL and others. He's also the guitar player for the Baltimore-based cover band, Liquifaction.