We all love staying in luxurious places but some of us are also trying to be environmentally friendly. The two things are not mutually excluded – there are many eco-friendly luxury destinations.
However, a new wave of tourism is an interesting mix of eco-friendly luxury. Glamping is all the rage around the world, and especially in Australia, where many people are trying to reduce their carbon footprint and yet they want comfort when on holiday.
If you want to have a glamorous adventure holiday that doesn't harm the environment like the usual accommodation does, check out these amazing Australian glamping spots.
1. Karijini Eco Retreat, Karijini National Park, WA
This eco-retreat is entirely owned by the local Gumala Aboriginal Corporation that cares about the interests of the Aboriginal people living in the region. Located in the very heart of the NP, the retreat offers both regular campsites and luxurious eco tents, as well as dorm-style cabins. The whole retreat is an example of green accommodation.
As it's located at Joffre Gorge, you will have the chance to go hiking down the gorge, admiring the waterfalls and plunge pools. You'll be amazed by the unforgiving bushland surrounding you while you are safely tucked in your eco suite.
One Australian restaurant provides lunch boxes and snacks daily, while traditional meals are offered on the campground. If you want to try out the Deluxe Eco with Ensuite including continental breakfast, the price for two people per night is the minimum of $315.
2. Longitude 131°, Uluru, NT
This glamping site is pure luxury, as it's been completely renovated, with floor-to-ceiling windows allowing you to admire the spectacular view of the surrounding dunes of Uluru. You will feel like there are no boundaries between you and the desert of the Red Centre, while the feeling of tranquility will overcome you the moment you step inside the accommodation.
The amenities are those of a five-star hotel with a dune-top bar, the Dune House Restaurant, and a fireplace and balcony in every tent. There are fifteen tents on the location, allowing you to enjoy a private view of the rock.
A twin share in a tent is starting at $1500 per night while two nights is a minimum stay.
3. Nightfall, Lamington National Park, QLD
Located in Queensland's magnificent Scenic Rim, this solar-powered camp is comprised of open-air safari hand-build tents with timber floors and private bathrooms. As you can enjoy the panoramic views of the rainforest of the NP surrounding you, this glamping spot gives you the impression you are one with nature. During winter months, the walls of the tents come down, allowing the rotating fireplace to perform its magic. When in need of pampering, treat yourself with a traditional spa while listening to birds. No wonder why this is also one of the top glamping spots on the planet.
The maximum of guests at any time is eight, so you can really experience complete peace. The cuisine inside the camp is purely organic, while wine and espresso coffee are complimentary. Two nights are minimum, and the price starts at $795 per night.
4. Bell Tents, Scamander Sanctuary Holiday Park, Tasmania
The East Coast of Tasmania is abundant with wildlife and breathtaking sceneries, and Bell Tents will allow you to enjoy the view from large timber decks where the tents are set up. The best way to reach this place is to take a private aircraft charter from Melbourne. Once you get there you will be woken by the sounds of waves on the beach, surrounded by native plants creating silhouettes on the canvas.
All the tents have the convenience of a hotel room, including the complete kitchenette, while the bathroom and the kitchen are communal, providing you with privacy and all the necessary equipment and amenities. Less than an hour away, there's a lovely beach town of Bicheno, where you can enjoy Australian salmon, wonderful wineries and fishing spots. Various activities and wonderful nature are why Bicheno camping is popular for couples, as well as families. The starting price per night is $185 in a Couples Glamping Tent (per guest). The best way to reach this place is to find a reliable aircraft charter from Melbourne.
5. Paper Bark Camp, Jervis Bay NSW
Twelve safari tents close to Jervis Bay and its white sand and blue waters, tucked in between the trees of eucalyptus are a perfect example of a getaway. The tents are built above the ground, open and with hardwood floors and solar lighting. The camp is sustainable, meaning there are no TVs, microwaves, and air conditioning. Don't worry, you won't mind it while you're enjoying a meal in a tree-top restaurant.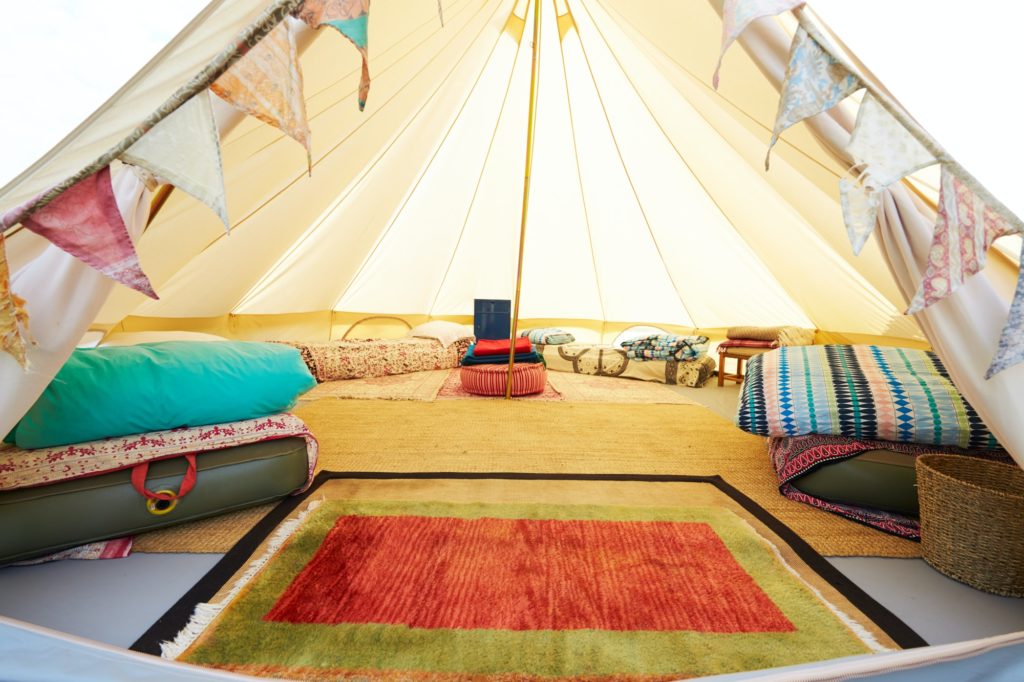 This glamping site prides itself on several awards due to its comfortable accommodations, fine food and wine, and breathtaking scenery. It's only 2.5-hours away south from Sydney, with the starting price of $500 per guest, per night.
6. Mile End Glamping, Margaret River, WA
Located in the premier wine region of WA, this glamping site consists of domes that look like observatories rather than tents, allowing you to admire acres of green spreading around the site. The local wineries are what will truly amaze you there – you can spend the day trying out some of the best cabernets of Australia, and then go back to the dome with a bottle or two to enjoy the wine privately.
The domes include luxury bathrooms, full kitchens, and king-sized beds, while the decks offer barbecues and spa baths. The domes are equipped with heating and air conditioning, decorated with Hamptons-inspired style, while gourmet hampers and meals are delivered inside the domes. The prices start at around $395 per night.
Final words
Glamping is proof that it's possible to have a glamorous, pampering holiday with all the quirks that come with it while also being eco-friendly and experiencing nature first-hand.
Australian glamping is one of a kind due to the unique beauty of Australian outback, so whichever glamping site in Down Under you opt for, you are guaranteed a wonderful experience.
Nina is a lifestyle blogger, yoga aficionado and a travel enthusiast with a distinctive taste for home decor. She's passionate about learning new things and sharing meaningful ideas. In her free time, she loves to design clothes and furniture.