Detox and cleansing juices are becoming more popular these days.
Aside from losing weight, these practices are quite beneficial to your mind and body.
Additionally, these drinks will help you flush out all the toxins that are present in your system.
As a result, you will surely improve your way of living and your overall health and wellness.
Here are some of the most effective detox juices that you may want to try now: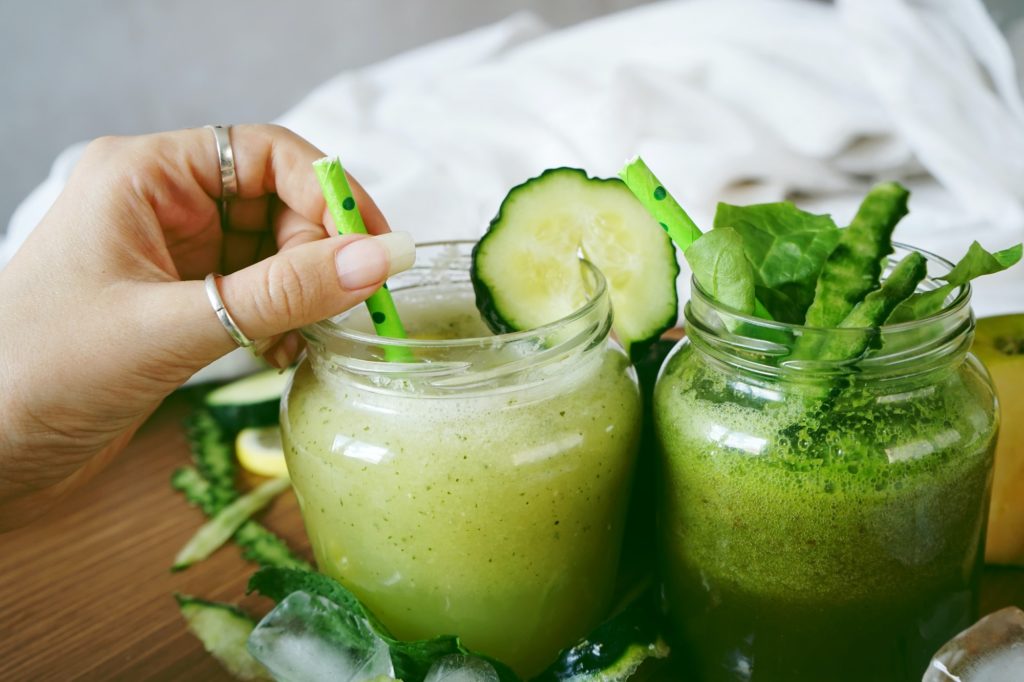 Green Genie: A Low-Calorie Green Juice
If you are a fan of green superfood and organic products, this detox juice may be the one for you.
The Green Genie consists of 1 stalk celery, 3 cucumbers, and 4 kale leaves which are all rich in green water, chlorophyll, and other essential nutrients.
These ingredients are all 90% water which is highly ideal for anyone who wants to do an effective cleansing.
Lemonade Cleanse
The Lemonade Cleanse is quite popular among weight loss specialists.
Aside from the fact it is very easy to prepare, it is very effective in flushing out all the toxins from your body.
All you need to do is to mix 2 tablespoons of pure lemon juice, 2 tablespoons of pure maple syrup, and a pinch of cayenne pepper with a glass of lukewarm water. You can also add a few mint sprigs as well.
It is advisable that you don't consume anything for the day except for 8 to 10 glasses of this drink.
Tropical Carrot Apple Juice
Another great detox drink that you may want to try is the Tropical Carrot Apple Juice.
All you need to do is prepare an apple, 2 carrots, a few pineapple chunks or orange, and ginger.
Mix these ingredients in a juicer and consume it in one sitting.
Also, this detox drink is very nutritious. It is packed with vitamin A, B vitamins, vitamin K, and potassium.
Fruit Detox Drink
If you want a detox drink that can help you with your fiber intake, then the Fruit Detox Drink is for you.
In preparing this detox drink, you will need 8 ounces of orange juice, 1 banana, ½ cup of strawberries, ½ cup of Greek yogurt, and a tablespoon of flax oil and lecithin.
Blend these ingredients with 4 ounces of purified water.
Ruby Red Cleansing Tonic
The Ruby Red Cleansing Tonic is very pleasing to drink and to look at.
With its inviting color, you will surely have this drink every now and then.
All you need to is to blend 2 peeled grapefruits with 2 cucumbers and 1 large beetroot.
Also, this drink is recommended to be consumed before a meal.
But, keep in mind that drinking this will make you want to go to the bathroom every hour or so. Even so, you will surely flush out all the toxins and pollutants in your system.
Fresh Cranberry Juice
One of the most popular detox drinks of today is fresh cranberry juice.
Aside from its convenience in preparation, it is found to be very helpful in cleaning your urinary tracts and intestines.
But, you may want to limit your cranberry juice intake per day as it may inhibit side effects to your bowel movements.
It is recommended for any adult to drink two full 16 ounces of fresh cranberry juice per day for detox and cleansing processes.
Orange Dreamsicle Detox Juice
If you are a real lover of the famous Orange Creamsicle Ice Cream Bars, then this detox drink may suffice your daily cravings for the popular ice cream.
All you need to do is prepare 2 medium apples, 1 large orange, 2 medium pears, 3 stalks of celery, and a few slices of sweet potato.
Blend these ingredients and pour it into a glass. You can also freeze them and make an ice cream out of it.
Detox Dandelion Tea
Dandelions are great detox ingredients. In fact, most people use it to aid hangovers.
But aside from this benefit, you can also have an effective detox diet by utilizing dandelion teas.
Apparently, the properties found in dandelions are quite helpful in cleansing your system.
And this is also the reason why people use it for their hangovers. Furthermore, dandelions are rich in antioxidants that are highly essential when you are on a detox diet.
Final Thoughts
Now, having a detox and cleansing day every now and then is very beneficial to your health.
And if you want to add a few twists on these days, you may want to try these delicious and effective detox juices!
Joshua is a writer who loves to write articles on health & fitness. He is always involved in fitness. He believes health is wealth & to stay healthy & for that, we need to have a green superfood along with detox drinks!